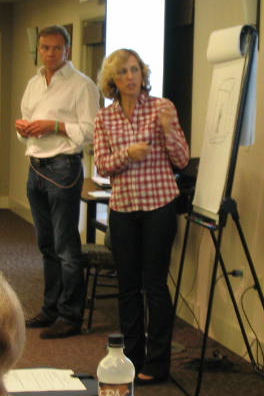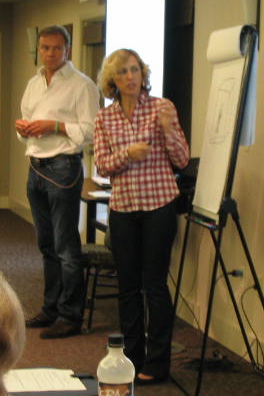 The teachings of Svetlana Smirnova and her assistant, Alex Teetz, of the SVET Centre in Hamburg, were well received by the 60 people who attended the seminar in Yelm, Washington on October 2 and 3, 2010.
Svetlana spoke in German, with Alex translating and co-teaching with her. Her native language is Russian. She learned the methods of Gregori Grabovoi after arriving in Germany and realizing that to work as a Neurologist (qualified in Russia) she would have to essentially repeat her internships in a German hospital. Already clairvoyant, she has studied and worked with Grabovoi's methods for 12 years now. She also uses the methods of Arcady Petrov.
At the Yelm Seminar, a smorgasbord of healing methods were shared. The attendees were most excited about the number codes of Grabovoi. A number code has been identified for nearly every disease. The codes are 7, 8 or 9-digits. There are also codes for each area of the body, which are good to use if you don't have the exact code for your ailment.
The teeth regeneration method of Arcady Petrov was also taught. The various healing methods could be used together or in sequence to achieve the desired results.
Each method was explained first, with diagrams and referring to a booklet each attendee received. After the explanation, Svetlana lead the participants through a mental visualization exercise using the process. For us and most people, this guided exercise greatly helped in understanding the process.
With so many processes covered over the weekend, even though Devon and I missed a few of the exercises because of our organizer obligations, we felt significant shifts and our heads were buzzy for several days afterward. (Hence, why no update until now! LOL) Devon experienced Svetlana's energy as a huge field and was grateful to be in her presence all weekend.
One energy worker from Sedona said that the seminar gave him the "power tools" to work with the energies he was already using. An intuitive coach from Washington has already started using the methods and says, "I am an Extruder fan!" (the "Extruder" is one of the major regeneration processes.) Another attendee has already reported that the Extruder process helped with a nerve issue.
Where did these processes come from? Apparently the processes developed by Grabovoi came about as a result of others wanting to do what he does. Grabovoi is clairvoyant and can affect reality–past, present and future. The methods he developed use symbols and metaphors in a visualization, so others, not clairvoyant, can access those same energies and processes. Even though I am not clairvoyant and don't even really visualize, I could feel 'stuff happening'.
Each of the three events, in Yelm, Ashland and Mt. Shasta were filmed and an experienced team which creates online training websites will assemble the material and launch a website where others can also learn this material. To get notified when the website is launching, please subscribe to this site in the upper right hand corner. (All of the people who attended the seminars don't need to subscribe and will be emailed.)
Will Svetlana return to the USA? Probably! The recent seminar just touched the surface of the technologies she has learned and can share. We hope to host them again soon and assist with spreading the knowledge of such simple processes that can help so many people.