Miracle Bell Story – November 14, 2012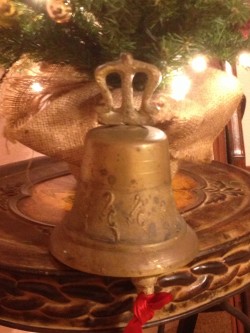 My wife and I were preparing for a 64 Deeksha Process last Wednesday afternoon and I wanted to record a new bell to use. So, I asked Cyndi to man the laptop in the sound room at the Awakening Center, and I would ring the bell.
We recorded the first set of bells… a 1 ding, 2 dings and 3 dings. And whilst they were good, the 2 ding could be better, so we decided to do it again.
When Cyndi pressed the record button again, this bell rang in the room! And I was still standing there holding the bell in both hands, and I looked at her and said, "I'm not doing anything!"
There was a double bell ring in the room and we just looked at each other! And at the computer which was recording it! We just stood there with our jaws dropped… and then the triple bell rang! And then we laughed and turned the recording off.
This was our miracle bell ring that we used as our 2-ding bell for the 64.
The sound just emanated out of the room, in the air! It wasn't coming out of the computer.
We know the first track we recorded didn't accidentally play,  because we have the 2 recordings in Audacity and you can see on the waveforms, they are definitely different sounds. See the picture below of the waveforms.
Blessings to all,
Devon McKenna
PS Special Thanks to Nadja for letting us use the bell!
Miracle Bell File Downloads
Simply click on the file name to download.
All of the above in one zip file:
What's in the 64 Process audio file, Singlex8 . . .
Single Bell x8 at 30sec intervals
Double Bell at end of 1 Blessing Giver's round of 8
Triple Bell at End of the Round of 8 BGs
Lay down for 3 minutes Shavasana
Triple Bell for end of Shavasana
30 seconds silence to get to seat
[Repeat]
How to Use 64 Process Audio in iTunes
Add to Library in iTunes,
Select the audio file: 64 Process Bells. . .
File > New Playlist from Selection
Edit > Copy
Edit > Paste  the file 7 times (click 'Add' in the Dialog Box)
Check the boxes to Repeat 5, 6, 7, or 8 times for number of people in circle. (For 4 people, repeat 8x)
Click on image of the audio waveforms to see bigger version: